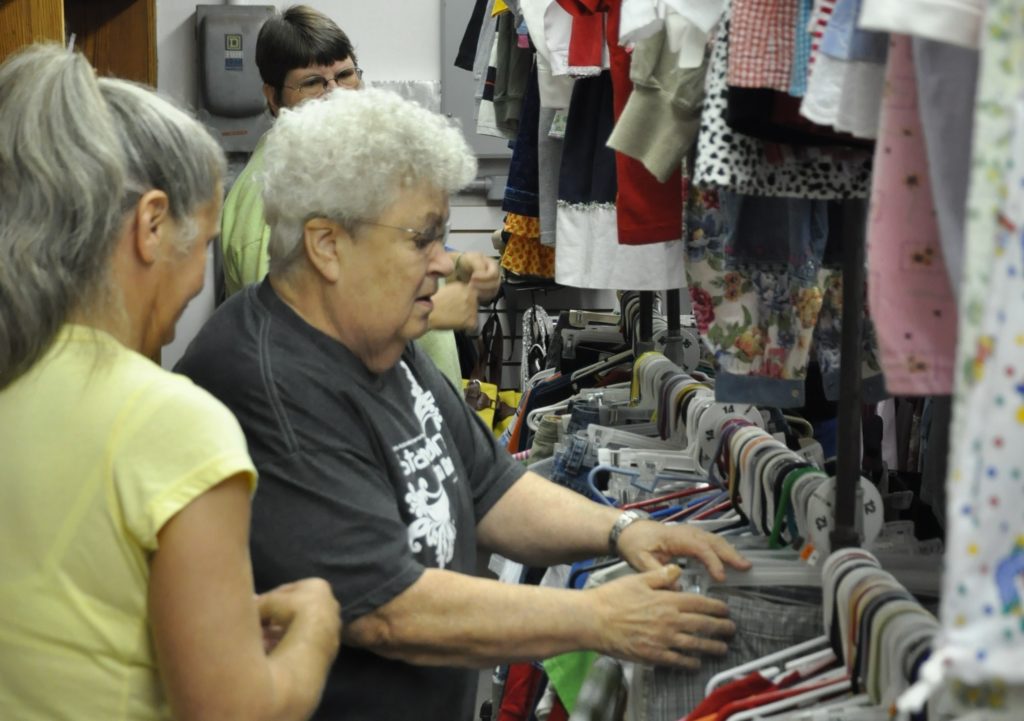 If you have ever served here at God's Appalachian Partnership, you have probably met Mary Poole. In her own right, she is a legend around here. She was never one to talk about herself but her life story is one amazing journey of faith!
Mary was born August 30, 1935 in Pennsylvania and was soon placed in foster care never knowing her biological parents. As a young teen, she was sent to a family that fostered many kids near Philadelphia, PA which became her home. There she was introduced to the Gospel, accepted God's salvation, and grew up in the Mennonite Church. After graduating high school, she sensed God directing her to missions so she decided to do a 2-year assignment of VS. VS in the Mennonite denomination stands for "volunteer service" and refers to a mission program where Mennonites go for a period of time and serve without pay. During her first VS term, she discovered she wanted to serve others by being a nurse. After that first term, she went to school and graduated as a Register Nurse and decided to serve another 2-year assignment of VS, this time as a RN.
A small hospital in McDowell, KY was in need of nurses, so Mary Poole and another Mennonite VS lady was sent to serve for 2 years. Mary completed her first term, but the need for nurses was so great that she signed up for another 2-year assignment in McDowell. When those 2 years were up, Mary had fallen in love with the people and decided that she was not leaving. That first 2-year assignment at this little hospital ended up turning into a 49-year career.
God had called her to missions and she was a missionary. She took numerous mission trips both abroad and locally. Her heart for the lost took her to Hatti, Ukraine, Brazil, Russia, Iran, and Israel just to name a few places. She also traveled in the US responding to natural disasters such as hurricanes and tornados in order to minister to hurting people. Mary traveled the world but her heart was for the people of Floyd County and Appalachia.
For years when she still worked at the hospital, she always made sure one of her "off days" was distribution day at God's Appalachian Partnership. Mary faithfully served the local community through GAP. God used her to share the Gospel with hundreds of people at GAP which resulted with numerous people accepting God's call to salvation. She gave her time and resources to anyone who was hurting or in need. Christ's love and compassion flowed through her to others.
I know no other person that exemplified Matthew 6:3-4 so well, "But when you give to the needy, do not let your left hand know what your right hand is doing, so that your giving may be in secret. Then your Father, who sees what is done in secret, will reward you." Mary gave and helped so many people without asking for anything in return.
Mary was a faithful member of McDowell First Baptist Church where she sang in the choir, was member of the WINGS group, and actively served Christ. For many years, she served as a director on the board of GAP. For 57 years, McDowell, KY was Mary's home. However, on March 14, 2022, the Lord called Mary Poole to her eternal home in glory. The Lord ushered her in and said, "Well done my good and faithful servant."
Just a week before her passing, Mary called me and asked me to stop by her house. She had made 20 loaves of banana nut bread for me to freeze and give out to our families during distribution. Even though she was not physically able to be at GAP anymore she was still giving to our families in so many different ways.
There are two ways you can give in memory of Mary Poole if you desire. Since nursing was one of her loves for 49 years, the McDowell Appalachian Regional Hospital, McDowell First Baptist Church, and God's Appalachian Partnership have partnered together to offer a Mary Poole Memorial Nursing Scholarship to a student from Floyd Central High School who is pursuing a degree in nursing. Mary's other love was the ministry of God's Appalachian Partnership. Mary gave countless hours and resources to GAP serving the community. She so hoped to be here to see GAP move into a distribution/office complex on the new property. Although this was not God's plan for her, you can contribute to the building fund allowing GAP to continue serving families for future years. Please email your donation in memory of Poole designating which you would prefer.