How one man's passion for the Gospel inspires The Christmas Project
Christmas is always an exciting time at GAP. Bill Stephenson's presence at the Christmas Store made it all the more exciting. Bill came to share more than toys, although he was ready and willing to help any parent. His goal was that everyone would leave the warehouse knowing Jesus Christ and His gift of salvation. Bill was adamant that he take the bag of toys to the car. That gave him a chance to talk in a calmer setting than the sometimes noisy warehouse. No one in Bill's care left without prayer. At least ten parents made professions of faith as a result of his faithfulness to share.
Bill's passion for winning the lost was not exclusive to GAP. He was actively involved year round in a truck stop ministry as well as Haven of Rest  and supported PEL (Praying Effectively for the Lost) Ministries. He served as a deacon at Union Baptist Church.
The memory of Bill's example still inspires our volunteers today. Two years after the tragic murder of Bill and his wife, Peggy, it is impossible to think of the Christmas Store and not think of Bill. His name and face has become synonymous with the Christmas Store for those who witnessed him in action. At the time of his death, the family asked that in lieu of flowers, donations be made to a fund that would be divided among Bill's ministries. Even after his death, Bill continued to give to the Christmas Store, providing many gifts for the children with the portion of donations given to GAP.
Last Christmas we wanted to do something to honor Bill's dedication and to remind us all that we need to carry on his passion to reach the lost for Jesus. The Christmas Store has always been housed in the GAP warehouse. Today we proudly display the warehouse's new name: Stephenson Christmas Store.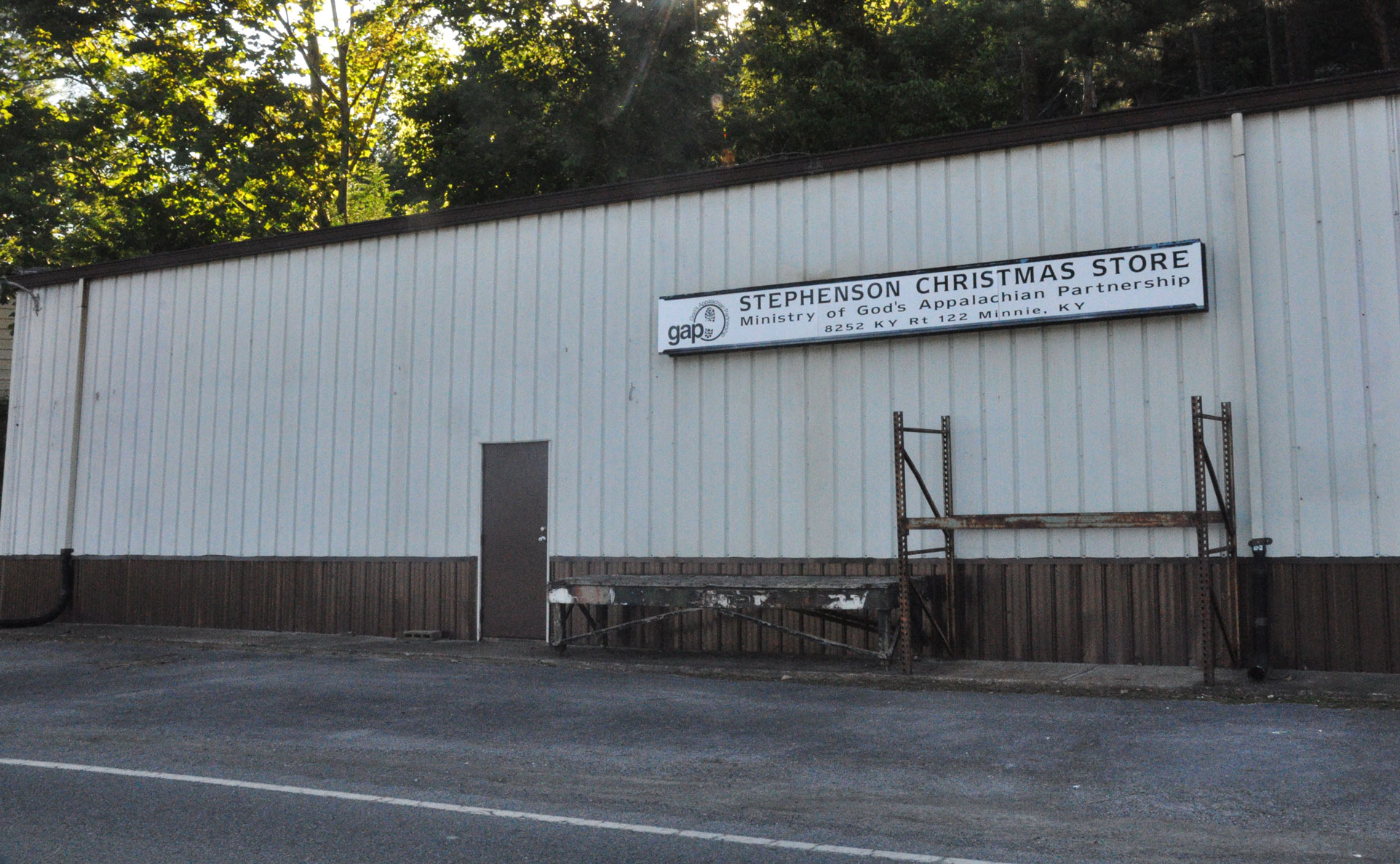 Several of Bill's family members have also volunteered at the Christmas Store including his daughter, Beth Stephenson-Victor, his son and daughter-in-law, Tom and Angie Stephenson.  Beth sent this in an email on behalf of the family, shortly after seeing a picture of the sign, "While carrying on Bills' legacy, the family learned of the name change as we ministered to the people at GAP last Christmas. While Dad was not one to draw attention to himself, we know he would be very humbled by this recognition and the family is very moved and honored that GAP will continue to recognize his contribution to the wonderful people in McDowell."